Viewing Entry
Posted March 21st 2012 by Anthony DiPalma.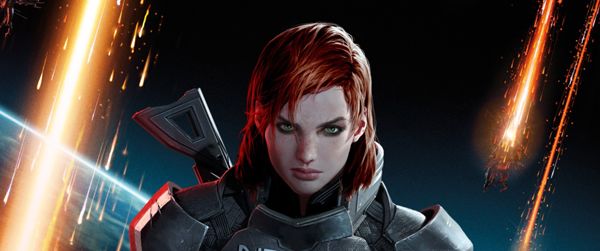 Fans of BioWare and the Mass Effect games have been outraged by the conclusion of the epic sci-fi series that released earlier this month. There is blood on the streets, buildings have been vandalized, Executive Producer Casey Hudson drove home one night to find a cross burning on his front lawn and the words "RETAKE MASS EFFECT" scrawled in the blood of his pet cat, Fluffy, on the windows. Or he just received a ton of angry letters and comments via Twitter and Facebook. Our sources are hard at work to determine which is true, but for the time being, developer BioWare has taken the criticisms and released a statement to their fans. BioWare Co-founder Ray Muzyka wrote a letter to Mass Effect 3 players, telling us that the team is hard at work to deliver content "that will help answer the questions, providing more clarity for those seeking further closure to their journey." This is well and good for some, but what does it mean for the rest of the industry?
I'll first start by saying that I didn't hate the ending to Mass Effect 3. I wasn't completely happy, but I wasn't really expecting an ending where my Anthony Shepard and Tali hooked up on the moon and played pong with Garrus until they grew old and died of space heatstroke in an alien sex-induced orgy. Rather, I was expecting an ending that tied all the loose ends as I watched in amazement and horror at how my decision to cure a sterility plague or reunite the Quarians with their home planet impacted the galaxy. I didn't get that ending, and neither did anyone else. What we got was an open ended finale that left a large number of players pissed off that their Commander Shepard didn't get to have awesome alien sex as the credits rolled.
For those unfamiliar with Mass Effect, it's a videogame series where players create a soldier named Commander Shepard; Anthony Shepard, Jared Shepard, Brandon Shepard, Desire Shepard, Hilary Shepard, Scott Shepard, Tyler Shepard, Franklin Delano Shepard, whatever, and are forced to make key decisions that will have major ramifications on the galaxy. What sets the series apart is that these decisions carry over and impact the next games. For example, I chose to save the Galactic Council from certain death in the first Mass Effect, while some of my friends decided to let them die in agonizing pain and give humans the keys to the galaxy. In Mass Effect 2, the council recognized my heroics and rewarded me. For my friends who chose to let them burn up in a fiery inferno of awesomeness, the other races were unhappy with you and wouldn't offer any aid. If your actions lead to the death of a squadmate, you will forever lose them, whereas their survival will ensure that you encounter them again at some point. Each playthrough of Mass Effect will be different for every player, so essentially the story that is being told is one that the person holding the controller creates as well as the developer.
That being said, I was never on the side of angry players who wished to change the ending of Mass Effect 3. Let's face it, games are pieces of art that are created in the minds of the artists who craft these intricate worlds for players to dive into. Just as a painter or writer uses their talents to draw or tell their story, game designers and developers use their talents to give players a unique experience that involves a special sort of interaction that no other medium can deliver.
Of course, fans are never happy with anything. Hell, George Lucas makes changes to Star Wars every few months. Everyone flips out when he announces the 43rd Annual Re-Re-Release Super Special Sith Edition BluRay DVD Extravaganza Surprise with more Hayden Christensen and less actual talent. I'm not saying that EA and George Lucas are similar, but I find it funny that when Lucas wishes to make changes, fans lose their shit and throw hand grenades into crowded orphanages. My question is: What about the fans that don't want anything changed? Their game is perfect. Open ended or not, there are players out there who appreciate everything Mass Effect 3 has given them.
With that out of the way, nobody can take away BioWare's dedication to fans. Remember when Mass Effect 2 came out, everyone started barking about how SUPER TOTALLY COOL MULTIPLAYER WOULD BE RIGHT GUYS? Then, as soon as BioWare announced that Mass Effect 3 would have cooperative online multiplayer, fans starting tearing the hair out of their skull in anger. When fans squealed like succulent pigs about a more action packed sequel to Dragon Age: Origins, they were given just that... Yet still they cried. My fear is that this will open up a gate of bitching and moaning at the slightest bump in the road. I can see the headlines now: Fans dislike final fight in Call of Duty: Modern Black Ops Warfare of Super War in the Middle-East vs. Russia 3: Activision offers super secret ending for 1200 Microsoft Points.
Bottom line: The people will never know what they want.
User Comments
"My question is: What about the fans that don't want anything changed? Their game is perfect. Open ended or not, there are players out there who appreciate everything Mass Effect 3 has given them." Don't download/update the game if a change is made and voila!
Wednesday, March 21st 2012
Sounds more like a bonus content DLC. Like "hey this ending still happens, but now find out what character X did in the moment leading up to it". That kinda crap.
Wednesday, March 21st 2012
Yeah a whole new ending hasn't been confirmed, but that's not to say it isn't happening. It could be something as big as confirming some ending theories people have, or just a compilation of after game scenes with each character. Personally, I'm expecting the current ending to stay, and just be more fleshed out so as to warrant less of a "wtf" scenario.
Thursday, March 22nd 2012
I haven't finished the game yet :(
Monday, March 26th 2012
Hey guys, the holocaust could have been worse if 3 million more people died....so all in all I'm not angry about it
Thursday, March 29th 2012
Hey guys, the holocaust could have been worse if 3 million more people died....so all in all I'm not angry about it
Thursday, March 29th 2012
Latest Podcast
Latest Articles
Community Activity